There are only 9 shopping days left until Mothers' Day. All those Moms, New Moms, Grand-moms, Godmothers, and Aunts and especially Expectant Mothers deserve something special every year, so I have found a few things that may be good suggestions for every type of mom. If she is an entertainer, chef, fashionista or an athlete you are sure to find something special on this list. Happy Mother's Day!
For the fashionista Mom, this stylish and really, really cute apron from Jessie Steele would be perfect. This is just one of the many patterns that are on the website. The coated cotton fabric is great to keep her fabulous outfit clean in the kitchen. If you want to do a cute basket of items to match there are pot-holders too!
Denis and I took a cooking class at The Institute of Culinary Education in New York City and it was so much fun. We took a couples class, but there are many other recreational classes offered, I can't wait to go back. They offer gift cards too, so she can pick a class especially for her. Great for the Chef type Mom!
Cook Yourself Thin: A Delicious Way to Drop a Dress Size
and
Cook Yourself Thin Faster: Have Your Cake and Eat It Too
This cook book is great! Denis and I have the first one,
Cook Yourself Thin: A Delicious Way to Drop a Dress Size
the recipes are really easy, lo-cal and delicious. The Scrumptious Skinny Meatballs, part Low-fat Penne and Vodka with Meatballs post was taken from this book. This is great for anyone trying to loose not just Moms, the recipes are not only delish but healthy too!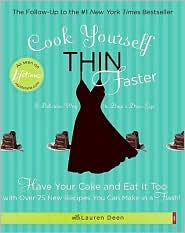 I really love yellow and I thought this collection of hand-painted stoneware was adorable. They are painted with an all over honeycomb design and tiny bees, the cutest!
I know this t-shirt isn't exactly cooking or baking related (it does oven in it) but I thought it was soooo cute and fun for the Mom to Be.
So I "literally died" (Rachel Zoe quote) when I saw this! This might be one of the most fabulous things I have ever seen. Most women are shoe lovers and this would be great for the Mom that loves to shop.
I love personalizing for anything and this is such a creative way to do it. This website offers different options for you to create a personalized recipe card. There are a wide range of facial features, then you add your own wording and they print and ship them to you. Pose Prints also as options for invitations, stationary and announcements all with the ability to add a beautiful face, especially Mom's!