Right now I really LOVE Navy blue. It is such a basic color and can be mixed and matched with everything yellow, green or pink are just some options. So I thought these few things were really cute! These 5 items are great for entertaining as well as great hostess gifts or birthday presents.
I'm a really messy in the kitchen and what every cook and chef needs is a super cute apron. I really love this one from Anthropologie.
If you are taking baked goods out of the hot oven you may as well look stylish while doing it with these matching potholder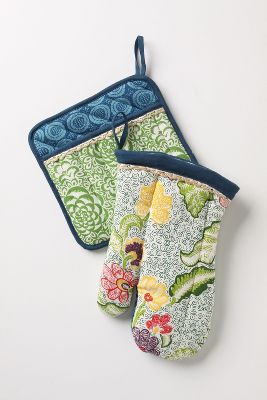 I found these cute hand painted monogramed napkins on Etsy. My friend Nicole turned me onto this great site. The M is in homage to my maiden name.
A great gift as shower present or even for baby's first plate!
I just love this Emile Henry ruffled auberge rectangular baker. Denis and I actually have the large and small bakers, as well as the loaf baker and the oval one. It's so nice you can even put it on the table when entertaining.